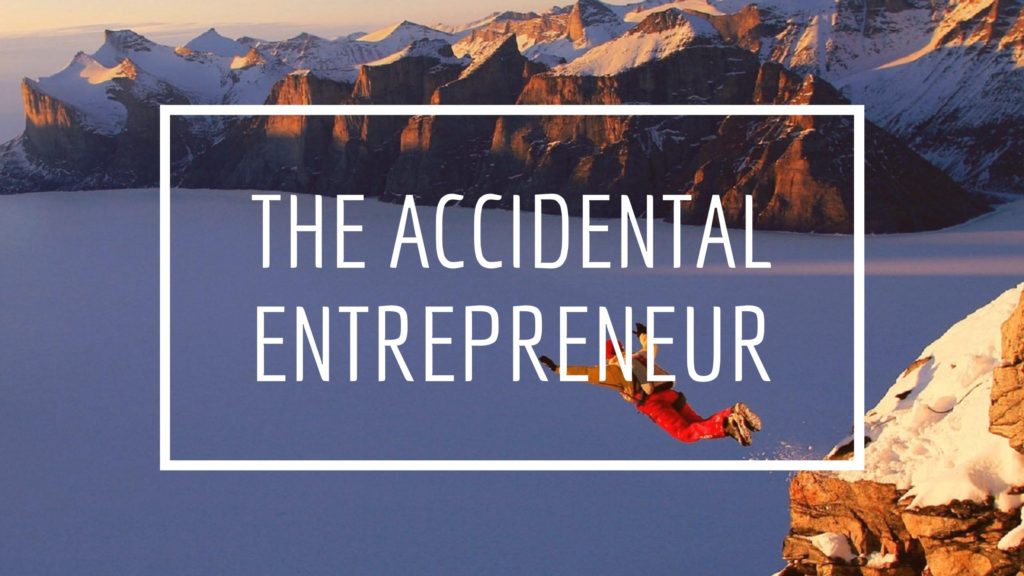 Will you take your entire family on a six-month road trip across the United States?
How can I do that?!
What about my school? And work??
I got to know about The Ong family's story through The Straits Times and had the same few questions before watching this video.
https://www.facebook.com/TheStraitsTimes/videos/10154075118762115/
After watching the video, I was inspired and reached out to them to ask if they were keen to do an interview. I'm glad they readily agreed and today, we have the privilege of having mummy Ong, Ms. Sue, to share with us her family's exciting adventure.
1) Hey Sue! Thanks for taking this interview! Share with us who you are and what is it that you're currently doing?
Well, where do I begin? I'm a woman who wears many hats but if you asked me what my main occupation is, I'll say "Mom".
That's been my life for the past seventeen years – mom to six precious blessings.
My husband Dan and I have also homeschooled all our children so a more accurate description is "Homeschool Mom". My newest hat is an entrepreneur of a fledging business and that happened sort of unexpectedly.
2) Tell us more about your journey with 6 Kids and a Pop-up Camper!
"6 Kids and a Pop-Up Camper" is the title of our travelogue which my good friend and "partner in crime" Rachel Meyer and I coined while dreaming about my six month road trip.
I had this dream to see America and finally in 2015 when my husband decided to step out of his teaching job, we had the window of opportunity to make the trip happen.
With the Meyer's help in acquiring a fourteen-year old, nine-seater Chevvy and pop-up camper (our house on wheels), we covered forty-three states in three large loops, always starting and ending at the Meyer's hundred-year old farmstead.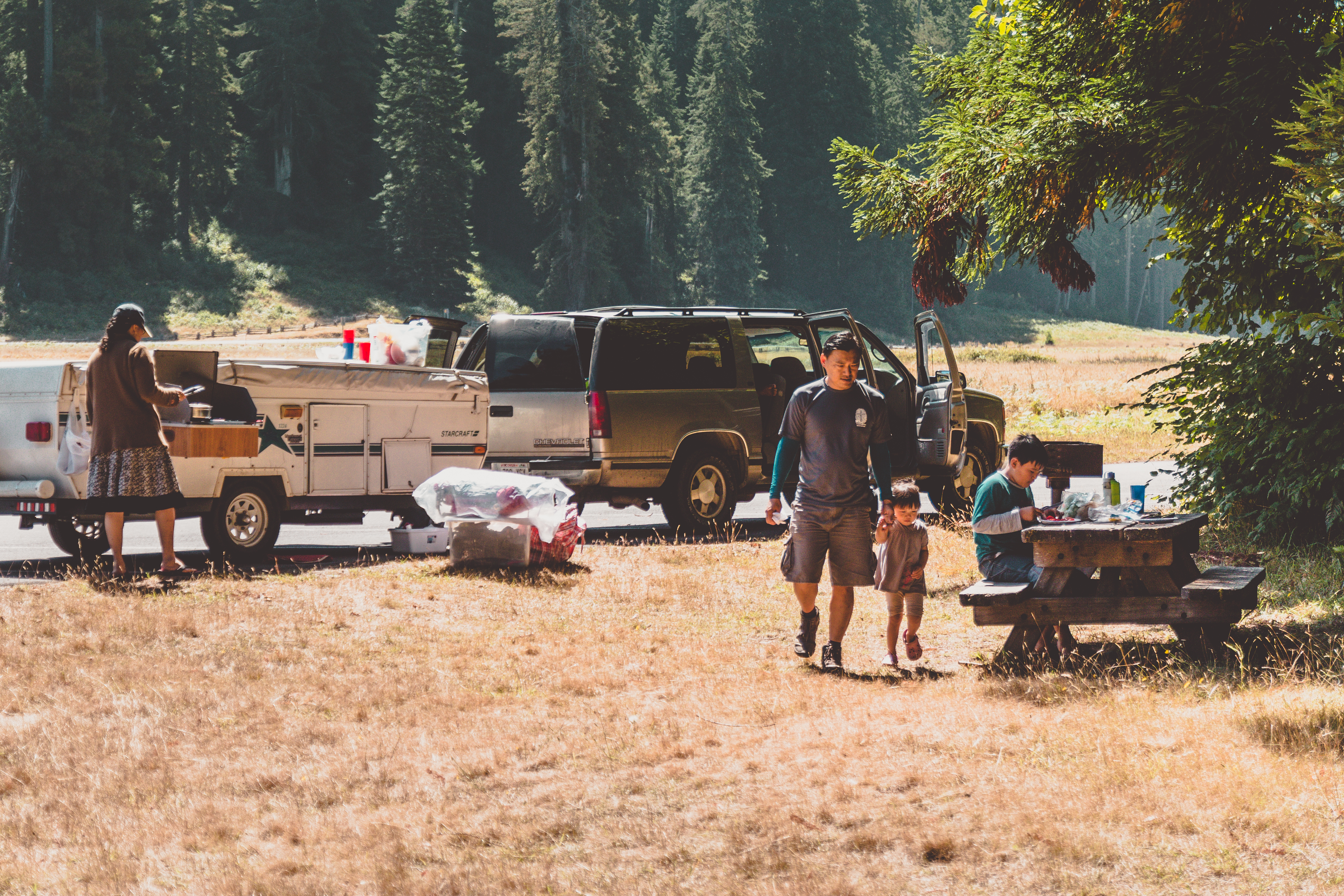 We did the southern states in the summer and New England in Fall. We saw many iconic American destinations like the Statue of Liberty, Mount Rushmore, Yosemite, the Grand Canyon, Yellowstone, Niagara Falls and many many more. The depth of the experience is hard to sum up in words. It was amazing.
At the time of our road trip, our children were aged fifteen, thirteen, eleven, nine, six and three. It turned out to be a good mix of ages because the two older boys were big enough to help with the muscle work like setting up and taking down the camper and my older girl Abigail was able to help me with the two little girls while Dan and I were handling other things.
Our shared experiences; spending so much time together and looking out for each other makes our family's bonds very strong.
3) What were some of the challenges faced while travelling with your family on the road and how did all of you manage to overcome them?
The biggest challenge we faced while on the road was being tight on money. We only visited places that we didn't have to pay entrance for and ate value meals and sandwiches, cooking whenever we could. We gladly stayed with American friends whenever we could.
There was once when we were seriously just down to Cherrios (breakfast cereal) for food. But the kids learned to be resilient and it was heart warming to see the older ones sacrifice for the younger.
There really weren't other big challenges other than money. We viewed the whole trip as one huge adventure to be embraced – new things to try, places to visit and people to meet! Overall, it was a wonderful trip.
4) What are some tips you'll give families out there who want to embark on the same adventure as what you guys did?
When you're out there on the road, throw away that stuffy schedule and be very flexible about your plans. We really enjoyed the freedom of changing course if a more interesting destination presented itself.
5) Let's talk about you and your family's experience of suddenly becoming "entrepreneurs". How did all of this come about?
Before we went on our trip, I had a little hunch that a trip like ours would make good fodder for a book. Just on a whim, I said we could write the book like a homeschool project, sell it and perhaps re-coup some of our travelling expenses. That was a completely un-researched proposal. Good thing too because if we really found out all the odds, the pragmatists in us might not have embarked on such a huge endeavour.
Prior to this, we had no idea Asher could take such beautiful photographs and they turned out to be a big part of our book. So that was a big blessing. We actually crowd-sourced and collected seventy pre-orders for our book project – I'm still amazed at this since we had no prior background in writing books! We are ever so thankful for all the support of these folks who believed in us enough to buy our book even before it was published.
Well, fast forward the long and winding process of getting the book published in 2016, our book and story has been met with keen interest and great warmth from the media and public about what our family did. We never imagined that partners now want to come on board our "entity" and have approached us.
As opportunities presented themselves, we are now branching beyond selling books to doing talks and sharing sessions. Sometimes we talk about our travelling experiences, sometimes about our Christian homeschooling philosophies. It's great because as a family, we do enjoy sharing what we have experienced to bring another perspective for people to ponder and consider.
6) I'm sure all of you are new to this. How's your entrepreneurial journey so far and what obstacles are you currently facing?
Oh yes, *very* new. It's fun to let our reputation as "the crazy family who brought their children for a six-month road trip" precede any introduction of ourselves.
Thanks to the media and social media, many people have heard of us. I'll say our journey so far has been really good, maybe because we didn't have any expectations to begin with. haha..
We're really thankful for the warmth of the public for what we did for our kids; really cheering us for giving our children an opportunity to experience life at its best. The hiccups happened mostly with the production of the book that caused months of delay. From this, we learned to take detours and delays as part of what's considered "normal" in business.
The homeschool parent in me will also say that it's a dream come true that together with the children, we can have a taste of what running a business entails. Previously, we were a single income family, spending the money that Papa earned. But we yearned for the opportunity to work together as a family and earn a living together. One of our homeschooling goals is for our children, especially the boys, to be self-employed in adulthood.
Right now, everyone in the family is in on the action- even down to our youngest Michaela (4 1/2 yrs) whose job is autographing books with her drawings of a girl, presumably herself.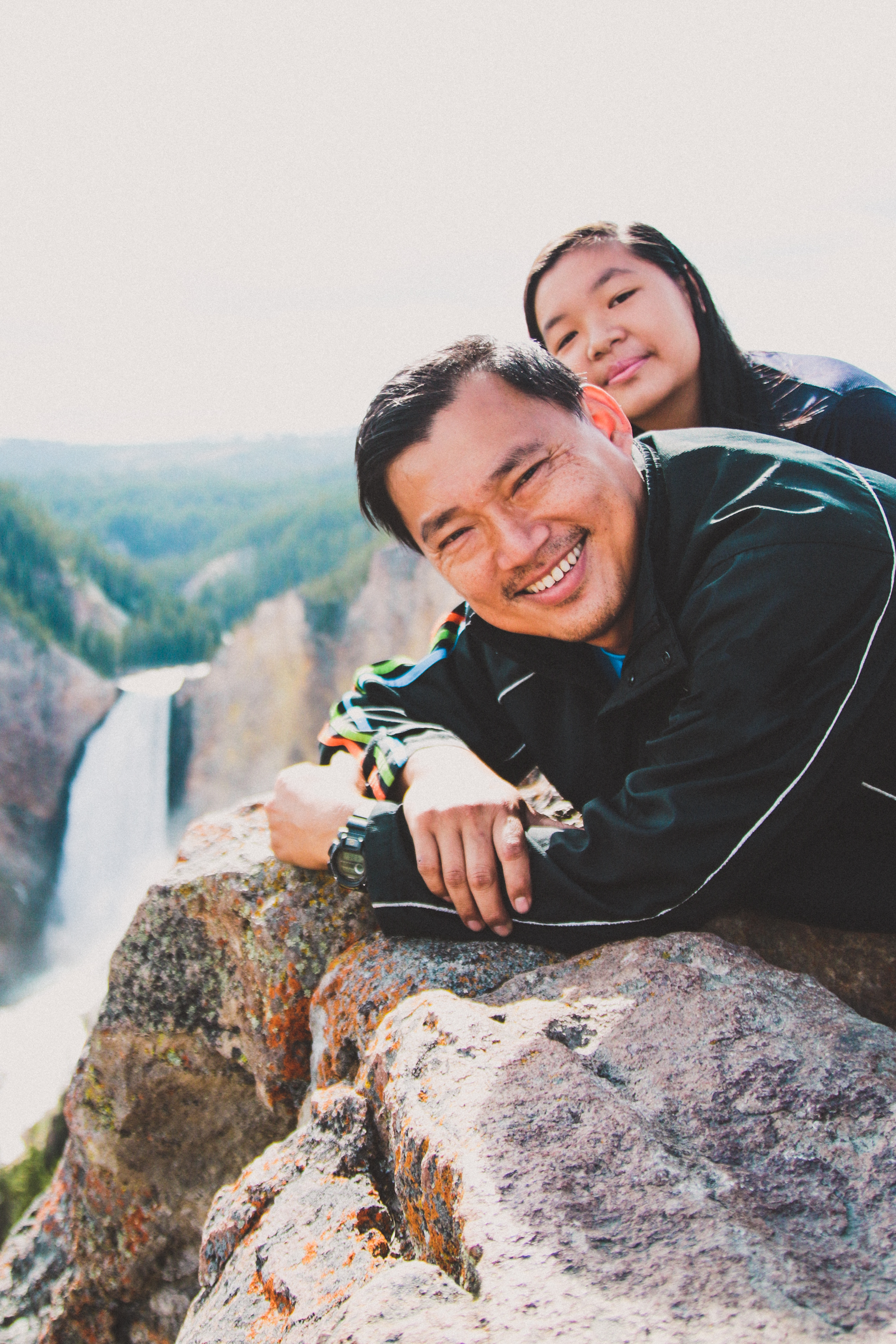 This business has impacted every of our children's learning but is especially an opportune meeting of right timing and talent for seventeen year old Asher. At fifteen, he went on an epic road trip and basically taught himself how to use the camera skilfully to take great photos. He also learned photo-editing. At sixteen, he taught himself Adobe InDesign and together with me, painstakingly created the entire three-hundred page travelogue. And now at seventeen, he is our media man and has begun sharing his ideas in talks as well.
As for obstacles, if you asked me this question last week, I would have said that we were facing a major road block regarding the printing of our second run of books. But thankfully, that has been resolved and hopefully our book will be found in major bookshops around Singapore and our region. Huge sigh of relief!
Our business seems to be versatile enough to have quite some interesting paths to branch into in time to come. One avenue is developing Asher as a professional photographer and we are intending to sell his prints as well. There have already been several who suggested that he should do a photography exhibition but we don't have the funding currently.
7) I saw Isaac's video on your Facebook page making a request to put them on the road again. How has this campaign been going for you so far?
Yes! Glad you mentioned that! We're a family that's known for travelling and the fact that we are not travelling is kinda weird.
We believe that our followers are interested to know how a family with six children functions together in an unstable environment like being on the road. Also, it'll be great to show all the places we're going and the things we'll do. We've made it known that we're opened to travelling again, albeit shorter duration trips this time.
We'll be producing family-friendly, homemade videos and blogs to share with our audience. And Isaac (his multiple accents and characters) will be our "secret weapon" to reach to audiences in our region.
We hope that people will be tickled by his acting and not think we are trying to belittle or stereotype anyone! We love our friends from different nationalities and celebrate the diversity!
We're also looking to work with travel partners, airlines, tourist attractions (we love outdoors, adventure-y type activities), restaurants and food outlets. We're also looking for journalism equipment to upgrade our capabilities to share better footage with the use of drones and GoPros. Asher will be grateful for a wide angle lens too.
Our proposal is still in the consideration process by possible partners so nothing is firmed up yet. We're still open to offers to put us on the road again and we hope that we'll be able to announce exciting news of a trip very soon!
8) As parents, how do you inculcate the spirit of entrepreneurship in your children?
Let's see, if you asked me what I did over the years of talking about starting a business, it would be: dream, try, flop, dream again. We'll keep talking and exploring ideas and testing out what we thought was feasible.
One business we tried in a small way was making baby girl elastic headbands, you know those with the fancy flowers? We really did our best to source the materials, get the children to make them, work on packaging, sell at flea markets, etc… But we quickly realised that the market for elastic hairbands was very limited and we eventually dropped the effort.
Another thing I did as a mom to inculcate a spirit of entrepreneurship was to be a learner and take on new things. I think the thing that started it all was my passion for baking and decorating cakes.
It was while I was pregnant with our third child Isaac in 2003 when I baked my first ever successful batch of cupcakes. With that, I was hooked. Moving on to cakes, then birthday cakes, and now I have done over eleven wedding and special occasion fondant cakes that are up to four tiers high. I especially love to custom make them with quirky ideas that tickle the imagination. I never attended a single class but learned through books.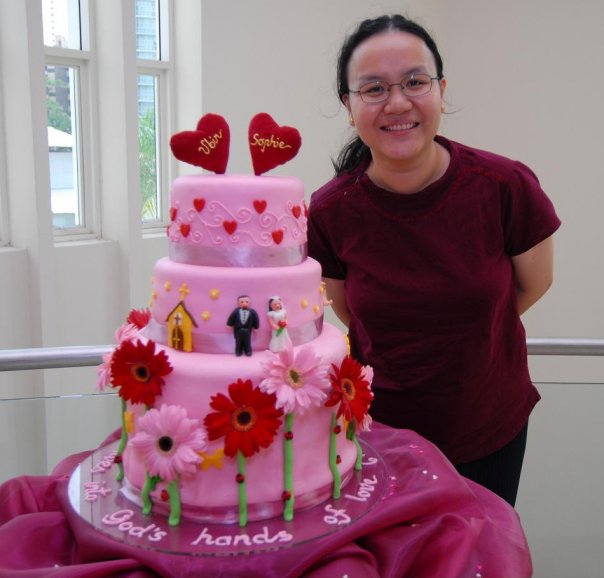 From there, I've also dabbled in sewing clothes and dresses for my girls and myself, making soft toy cuddleys, cooking new recipes every once in a while… stuff like that.
As the children observe me, they pick up the attitude that it's fun to learn new things and do further research into it, keep trying. More importantly, many times at the start it'll fail and maybe not be up to expectations but that's ok, just keep trying.
9) Moving forward, what are some of the plans The Ong Family intends to achieve in 2017?
On the homeschool front, Asher is facing two more O levels this year. He cleared three subjects last year and is considering entering a polytechnic in 2018. We have Isaiah facing PSLE: we'll give it our best shot!
The other kids have their various goals to accomplish too, like music exams.
We do hope to travel and grow our reach. Meanwhile, the kids are learning how to vlog so as to share our travel experiences with our audience.
 10) In your own words, what does it mean to "Love the Life You Live and Live the Life You Love"?
I actually feel very blessed because I know I am in the center of God's will for me, being a full-time mom to the precious souls that God has entrusted me with.
It's been a very fulfilling seventeen years dedicating myself to nurturing my kids at home and I wouldn't exchange it for anything in the world.
I guess to "love the life you live" is to have a certain amount of contentment about your lot in life, not to wonder if you are being short-changed of something better. In order to live the life that one loves, one has to take decisive steps that allow the freedom to make it happen.
But in a way, I'm glad that in 2015, with all the loose ends coming together nicely, I had a chance to live the life I really, really love for six months. Being free to be close to my loved ones and close to nature, experience new things and meet wonderful new people, make lifelong friends. That's the life I love and I am grateful that I was granted that window to do so.
Greatest Takeaway
Wow. Is it just me or do you feel inspired after listening to Sue and her family's story?
There are so many things I've learned from this short interview I think I'll need to do up another after just to cover that!
In summary, my greatest takeaway is that it takes a whole lot of courage to pursue what you intend to achieve. I didn't get a chance to ask this question but I can only imagine how difficult it must be to be different from the rest. Taking the homeschool route, doing a six-month road trip using a pop-up camper, getting the entire family to be involved with entrepreneurship… just to name a few.
But I guess it's all with the intention of creating the joy of learning together as a family and inculcating the spirit of entrepreneurship along the way. Most of all, it's how she values family above all. Like they say, "a family that travels together stays together". 😉
How You Can Get Involved
This time, The Ong Family is looking to travel to different destinations, partnering with people from the travel and tourism industry. They're open for sponsorships in exchange for social media advertising on their platforms.
Another aspect you can work together with them is though Asher's passion in photography. He can give a talk, lessons on how to use the camera, techniques of taking nice photos and do up exhibitions to showcase his work to inspire other young talent.
If this is something of interest to you, feel free to contact them here and I'm sure they'll be more than happy to hear from you.
To learn more about their interesting journey, you can get also get a copy of their book, "6 Kids and a Pop-up Camper" here. Let them take you on an unforgettable voyage across the United States and experience it through the eyes of The Ong Family 🙂
Thanks Sue for sharing with us your family's adventure! I'll definitely help you keep a lookout for opportunities or partners to put your family on the road again!
---
The Ong Family
6 Kids and a Pop-up Camper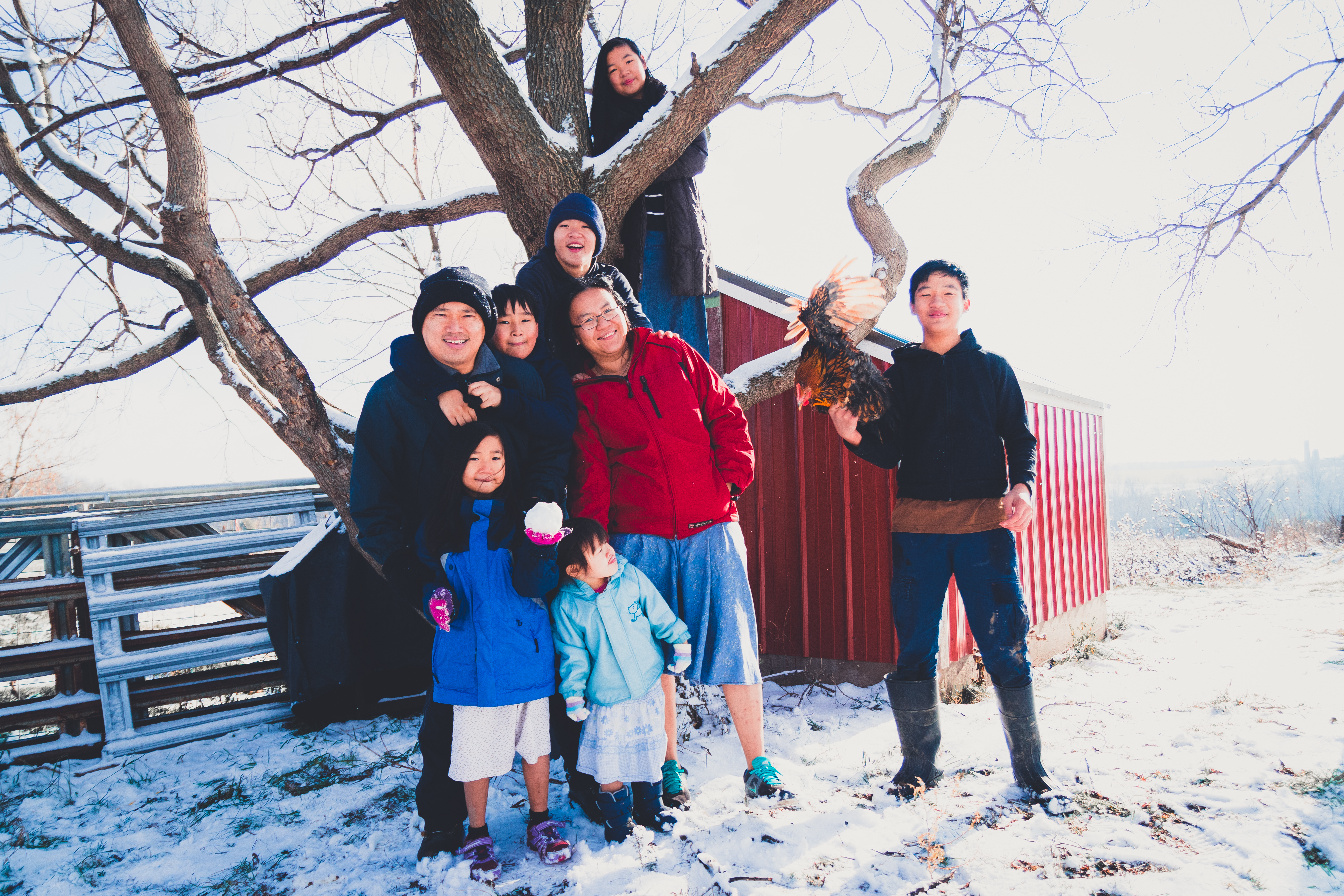 Sue Ong was born and educated in Singapore, graduating with a degree in English Language and Literature. She took the unconventional route by becoming a stay-at-home mom to six children and homeschooling all of them. She enjoys playing the piano and cello and sings (mostly at home and in the context of church).
Dan Ong is the committed husband and father of the Ong Family. He was an Education Officer with Singapore's Ministry of Education for seventeen years until his resignation in 2015. Currently, he is a supervisor with a private learning centre.
Because of the epic America road trip, he can now say that he is also an accomplished driver. In six months, he drove as far as from Singapore to England and half way back, pulling a camper trailer.
Mr and Mrs Ong's firstborn and also the photographer of their travelogue is Asher Ong. Being homeschooled all his life, his educational experience is one that is full of exploration and chasing his passions. This book is a product of his passions – photography, photo-editing and graphic designing.
The other children are Abigail (15), Isaac (13), Isaiah (11), Magdalena (8) and Michaela (almost 5). They flourish and blossom at their own pace in the shelter of their homeschool.
PHILIPPIANSFOUR19 is the fledging company set up by the Ongs as they make an entrance into doing business, more for the sake of exposing their kids to the concept of self-employment.
Currently, aspects of the business have to do with the selling of the travelogue that is based on the family's account of their six-month road trip around America.
From time to time, the family also gives talks, sharing topics ranging from travel to education (homeschooling) and photography.
Website: https://6kidsandapopupcamper.com/
Facebook Page: https://www.facebook.com/6kidsandapopupcamper
Footnotes:
Photo Credits: Courtesy of The Ong Family (Mostly taken by Asher Ong)