If you can recall the 2013 haze outbreak in Singapore, it was one of the most serious haze episodes in the past sixteen years – the first time PSI levels reached a hazardous range with the highest PSI reading of 401 recorded on 21 June 2013.
It was during this time when I chanced upon a video Josiah created called WHILE IT WAS HAZY.
The message Josiah shared resonated with me and I was deeply moved. While others were busy profiteering from the spike in demand of N95 masks or grumbling about inconveniences the haze has caused, it was comforting to know there were still people out there who cared for others.
After watching the video, I immediately connected with Josiah on social media to stay in touch. Fast forward four years to today, I finally have the opportunity to ask him about this initiative in detail and how it all started.
1) Hey Josiah, thanks for taking this interview! Share with us who you are and what is it that you do for a living?
Thank YOU for having me.
My name is Josiah Ng and I'm a content consultant at an advertising agency. I run a team of content creators who believe in using their work to impact our world in a positive way, working with brands to help them see how their businesses can be used for good.
2) Tell us more about your social initiative, While You Were Sleeping
While You Were Sleeping was a knee-jerk reaction to something I was constantly told while studying at university. People were telling me students in Singapore were a selfish lot who only cared about their grades and careers.
I chose to believe otherwise and wanted to prove we were a bunch who could also be gracious and kind. That's how WYWS was born. I also wanted to use this initiative to encourage others to do the same; be kind to others in times of need.
What we did for the initiative was simple. In Singapore, it's not unusual for many students to burn the midnight oil and study overnight in order to do the best in their studies. But this made many students tired. I was also hearing stories of how students were stressed to the point of breaking down. So we thought WYWS was a good way to help in this issue.
What we did was to go around schools to drop items such as snacks, drinks and encouragement cards to students who were sleeping at their desks, most probably because they had a long night of studying for their exams. We wanted to tell them that during the stressful exam period, there are still people who understand and care for them.
I was personally very encouraged when people started to reciprocate what we were doing. They too, started to do their own mini "WYWS" campaigns at their own schools and classes.
3) I find this name very interesting and meaningful. How did it come about?
It stemmed from a very simple statement that came to my mind when I asked myself "what should I tell these students who were tired?"
Well, they were asleep so… it became very easy, "While You Were Sleeping, someone cared for you."
The name While You Were Sleeping just got stuck since then.
4) When did you first start? What was your first project and how was the response?
Wow, I think it was five years ago.
We decided to head to NTU at that time because one of my friends was studying there. People were giving us stares when we carried out the initiative and I was so nervous. Despite the nerves, we hung around to see the responses and when we saw smiles, we were encouraged.
After that, we decided to release a video about this to try and achieve some kind of a "multiplier effect" because there were only a few of us, which meant there was only so much we could do.
The video was released online and to our surprise, word went out and I got numerous emails with queries on how they could participate in this initiative as well.
This proved that my initial scepticism about Singaporeans being apathetic and unkind was right. From the positive response, it only shows we are a people that want to do good too; because we have good hearts.
Sometimes, it's just that we just don't know what the right avenues are.
5) What were some of the challenges faced while promoting this social initiative and how did you manage to overcome them?
I think the main challenge was to find time to do more.
I started as an independent guy trying to do something based on my own convictions but as more people came to know about this initiative, I was bombarded with emails and calls about sponsorship, getting on board and interview requests.
To be honest, I was a little overwhelmed at that time. To overcome this, I had to ask myself why I was doing it in the first place.
The answer I found brought peace and renewed motivation to surpass my own fears and tiredness to continue exploring how this social initiative could be expanded.
6) How can each of us play our part to encourage the culture of kindness in our society?
It doesn't take a lot of effort or a lot of time. I'd like to borrow Mother Theresa's quote, "not all of us can do great things but we can all do small things with great love."
So that's just it – Great Love.
Many of us started this because we love our fellow countrymen, we love the people whom we call neighbours and we love our country.
I usually also like to challenge others with the following:
Try replacing the word "Sleeping" from the name of our social initiative "While You Were Sleeping", with another verb. It can be any verb as long as it's something you're engaged in or witness on a daily basis.
For example, some have come up with "While You Were Driving (the bus)", "While You Were Working (in the Haze)", "While You Were Eating"… and in observing and coming up with these new names, one will start to realise there are needs everywhere.
7) Share with us what does it mean to be a charity advocate?
Oh, it's just something people have decided to call me.
However, I do believe all of us have a responsibility to give back, in some way or another. Giving back can be through financial means but it doesn't always have to be so. One can give his or her time as well.
There are also other ways to explore another dimension of charity too, such as investing one's talent for charitable purposes.
If you're a great illustrator, volunteer your illustrations and expertise to a charity organisation.
If you're an awesome chef, cook for those who are hungry.
If you're a writer, write for those who have no voice…
I've personally realised and learned that if you invest your talents, two things happen:
#1: You find purpose and meaning in the gifts you've been blessed with (Pssst… this makes life much more exciting!)
#2: Doing charity work won't be as intimidating as it used to be
8) What's the main goal you intend to achieve for this social initiative in 2017?
I've actually empowered others to help run the initiative and many are doing this in their own schools on an ad-hoc basis.
I'm currently focusing on teaching and mentoring youths to do their own initiatives in whatever way they can. This comes in the form of giving workshops, talks, and doing interviews like this.
I've grown to learn there's only so much I can do… but when others are encouraged and given the right advice, they can do great things for society too.
The needs of every individual community are unique. I'm definitely not able to address all these needs in person but when someone in that community gets empowered, he or she will be able to do so and make an impact in a meaningful way.
This is not to say I've all the answers, I don't.
That's why it's important for me to reach out to more people, educate and empower them so they can eventually take ownership to pay it forward in their own communities.
9) In your own words, what does it mean to "Love the Life You Live and Live the Life You Love"?
Life, is a sum of many parts – the good, the bad, the ugly… and we just have to realise that it's all worth it… all of it… the good, the bad, the ugly.
They all have a purpose and they all have value.
With this realisation, we will also learn to appreciate that this amalgamation of it all (which we call "life") is beautiful. We should love it.
So love life, regardless. So chin up, live the life you love, regardless.
Greatest Takeaway
"Not all of us can do great things but we can all do small things with great love." – Mother Theresa
In other words, The Ripple Effect; a spreading, pervasive, and usually unintentional effect or influence. A situation in which one event causes a series of other events to happen.
Everything we do will have an impact in this world and in the lives of others, be it big or small, directly or indirectly, intentional or unintentional.
The Ripple Effect of You, an article written by Dennis Merritt Jones on the Huffington Post shares what you "really do matter. Everything you do has an impact on someone, somewhere, even if you don't know them… the question we must ask ourselves isn't will I make a difference in the world? The real question is, what kind of difference will it be?"
The choice is yours to make. Make a conscious decision every time and choose to use your force for good.
Thanks Josiah for taking this interview and bringing our attention to the good that all of us inherently possess.
Through this social initiative, I'm sure more people will learn how they too, can give back to society in their own way.
---
Josiah Ng,
Founder of Social Initiative, While You Were Sleeping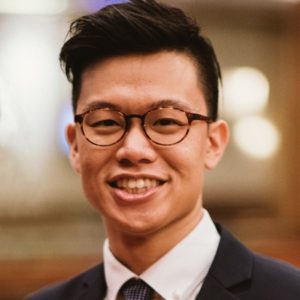 Josiah's passion and drive in telling poignant stories landed him in Ngee Ann Polytechnic, School of Film & Media Studies, where he was awarded with the prestigious Ngee Ann Kongsi Gold Medal in 2008. He also graduated film school with the Lien Ying Chow scholarship, Liu Ying Soon scholarship, Shaw Foundation Gold Medal, MDA Film Prize, and Cathay Film Prize. After running a boutique media company for the next few subsequent years, he went on to pursue academic excellence during his time at Chapman University, where he graduated as the Valedictorian with a B.F.A in Creative Producing.
He has also since been regarded for his keen visual sensibilities and has been commissioned by organisations such as The Institute of Mental Health, National Geographic Xplorer Magazines, Pangdemonium Productions, Touch Community Services, Health Promotion Board, The Ministry of Communications and Informtion, MCCY, and Habitat for Humanity to create thought-provoking content.
Josiah believes in using his talent in film and media for the benefit of others. His independent Social Initiative, While You Were Sleeping, is a project dedicated to encourage a culture of kindness amongst the University students in Singapore. The introduction video of this social initiative went viral on various social media platforms in a matter of hours and has since been adopted in five countries, spanning across three continents.
Beyond managing the social initiative, Josiah has also given talks at TEDx Singapore, various Secondary and Tertiary Institutions and has been featured on local media outlets including The Straits Times, MyPaper, KISS 92FM, Capital 95.8FM as a social capital enthusiast and a creative problem-solver.
Website: https://www.josiahcreations.com
WYWS was developed around the idea of simply doing something nice for a person while he / she snoozes (out of exam lethargy and stress!) at a desk!
Many have said that the Singapore culture is one that is selfish and results-driven. However, the insomniacs of this independent effort (YES, WE ARE COMPLETELY ALONE!) are seeking to challenge this notion and bring about a positive and refreshing perspective through dropping a
Personalised Note
Gift (Coffee / Sweet)
at a person's desk WHILE HE / SHE IS SLEEPING.
JOIN US TODAY IN THIS WONDERFUL EXPERIMENT – Help us prove that we all care!
Facebook Page: https://www.facebook.com/wywsleeping/